Troy Little comic
Halloween is upon us. Historically this ancient event has been identified as the day in which the boundary between the living and the dead becomes unstable. It is on this fateful night that we find Beatrice, Molly and Mallory, the pop music group known as Angora Napkin, crossing paths with the wandering dead. That's how they meet Dennis, the zombie boy, who agrees to eradicate all life on Earth. Now, the girls of Angora Napkin must stop the horror they've unwittingly released (and make it to their gig on time)!
---
Citizens of Townsville, fear not! The Powerpuff Girls are back! In this IDW debut issue Blossom, Bubbles and Buttercup are back to take down the meanest of the mean and the ugliest of the ugly! Plus, what fiendish secret is Mojo Jojo hiding? The answer is sure to surprise!
---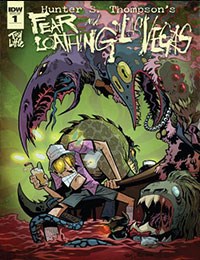 Troy Little's gonzo adaptation of Hunter Thompson's Fear & Loathing in Las Vegas is now available in an all-new format. Find out why GQ said "Little's cartoonish sensibilities make him the ideal artist to adapt Thompson's gonzo ur-text... perfectly portraying literature's most ridiculous road trip." This comic book version is presented in black-and-white and at a slightly larger size than the full-color hardcover edition. Each issue also includes pages from Little's sketchbook and other behind-the-scenes information.
---