Sylvain Savoia comic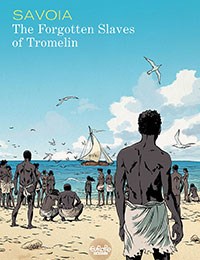 This story takes place on a tiny, far-flung island in the middle of the Indian Ocean, whose nearest neighbor is Madagascar, 500 kilometers away... In 1760, the Utile, a ship carrying black slaves from Africa, was shipwrecked here and abandoned by her crew. The surviving slaves had to struggle to stay alive in this desolate land for fifteen years... When this tale got back to France, it became the cornerstone of the battle of Enlightenment to outlaw slavery. More than two hundred years later, the artist Sylvain Savoia accompanied the first archeological mission in search of understanding how these men and women, who had come from the high mountains of Madagascar, had survived alone in the middle of the ocean. This is the story of that mission, through which we're exposed to the extraordinary story of the slaves themselves.
---
Nino would rather be outside playing than stuck inside doing homework—especially science homework. Then he discovers that one of the greatest scientists ever started out feeling the same way: Albert Einstein—the guy who invented that famous formula: E=mc2. And, as Ariane explains, there was a lot more to Einstein than just formulas. Thanks to him, we have GPS devices and electric gates, nuclear energy and … well, yes, also nuclear bombs. Einstein did everything he could to make the world a better place—but after all, he was only human!
---