Stephen Mooney comic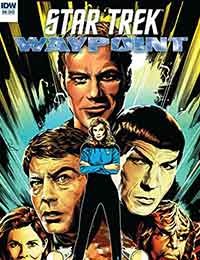 The anthology series celebrating 50 years of Star Trek continues in this new oversized special. Featuring four all-new tales written and drawn by some of today's top creators, this new installment of the hit Waypoint Special will revisit fan-favorite characters all across the Star Trek universe.
---
Nobody talks about how many dinosaurs died in WWII. But three months after Sergeant Tommy Irish Flynn and Captain John Noble wiped them out while foiling a Nazi plan, the boys are back, hot on the trail of some Dino DNA stolen by their former ally, Agent Elizabeth Huntington-Moss! The Nazis must be stopped before they can unleash their doomsday weapon!
---
DAMES. DINOSAURS. DANGER. Summer, 1943, and in the midst of a war waged by monsters, Staff Sergeant Tommy 'Irish' Flynn never expected to encounter a real one. But on a remote island in the South Pacific, Flynn and his squad come face-to-fanged-face with creatures long thought dead.
---