Stephan Nilson comic
The Pound is officially o pen for business. Scottie and Howie have their hands full. A creature is harassing park-goers. The Government is investigating them. Ghouls are rebelling, and, if things couldn't get worse, Scottie's mother-in-law has decided to visit. Guest starring PROOF's Agent John "Proof" Prufrock!
---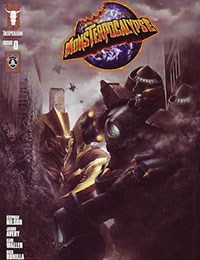 Monsterpocalypse is based on the action-packed, collectible miniatures game of the same name from Privateer Press. The era of monsters is upon us! Giant dinosaur like creatures roam the southern hemisphere wrecking absolute destruction upon every city in their path. Now mankind has designed their own giant protectors, but will they be enough to save mankind or is our time on Earth up? Three months have past since Gorghadra destroyed most of Chicago and left humanity's defender, Sky Sentinel, for scrap. Sky Sentinel has been rebuilt but his commander is gone, and the crew is not happy with the replacement - Major Jackson Chase, a pilot with a less than perfect military career. Tensions among the crew members escalate when Sky Sentinel is dispatched with an untested commander to defend New York City from an unearthly monster!
---