Spain Rodriguez comic
A motorcycle outlaw and one of the original seven cartoonists behind Zap Comix, this is the first volume in a series celebrating the influential force in the underground movement. Spain's Trashman stories form the backbone of this volume, along with his firsthand accounts of riding with the Road Vultures Motorcycle Club (a gang once considered so dangerous that the police chief of Buffalo, New York, declared war on them) and his 1969 East Village Other series about cop corruption, Manning. This first volume is rounded with an informative, inside account of Spain's life and loves in the emerging counterculture of New York's Lower East Side. Black & white illustrations throughout.
---
In the Days of Rage of the 1960s, legendary underground cartoonist Spain Rodriguez turned the conventions of adventure comics to revolutionary purposes. The result was Trashman, Agent of the Sixth International - Master of the mysterious para-sciences, defender of the humble and the oppressed, fighter against the shadow of tyranny that has covered the land. Trashman mixes sly satire of both the power structure and its radical enemies with some of the most powerful imagery ever seen in the medium to create a classic comic strip.
---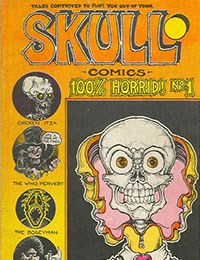 ---