Sean Gordon Murphy comic
Created by Zach Howard (Shaun of the Dead) and Sean Murphy (Scarecrow: Year One; Off Road), with screenwriter Reed Buccholz, Outer Orbit is outrageous, rude, hilarious space fantasy that takes the time-honored traditions of this beloved genre and leaves them face-down in a filthy alley in a pool of their own sick.
---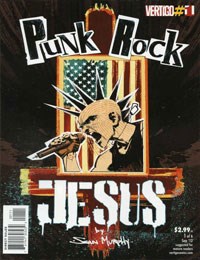 J2 causes outrage and adulation. Religious zealots either love or hate the show, angry politicians worry about its influence on the nation, and members of the scientific community fear the implications of cloning a human being at all – let alone the Son of God. And what effect will this all have on Gwen, the young woman who is selected, through an American Idol-style process, to be the mother of the new Messiah? All this leads to the hiring of Thomas McKael, the clone's bodyguard and a former IRA operative with a turbulent past who must protect the new Messiah – a baby who captivates the world, but grows up to become an angry teenager.
---