Scott Bryan Wilson comic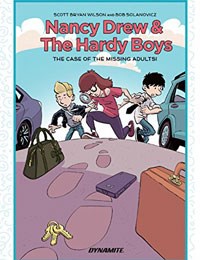 Eating candy nonstop and watching TV all day sounds great . . . until you actually do it, as the kids of Bayport High find out when all the adults vanish, and the world's greatest (high school) detectives--the Hardy Boys and Nancy Drew! --have to team up to solve the mystery! Whether it's going undercover, sneaking out at night, chasing weird buses, or following a strange smell, they know it'll take all their wits and smarts to get their parents and teachers back . . . that is, if Joe and Frank don't kill each other first. Oh, and there's also the matter of the skeleton that can walk. And a major feud with a rival high school. And a koala-in-a-diaper costume. And lawlessness in the hallways. And an unrequited crush . . . Written by Scott Bryan Wilson (Batman Annual, Star Trek: Waypoint) and drawn by Bob Solanovic (Mister Meow), NANCY DREW AND THE HARDY BOYS: THE MYSTERY OF THE MISSING ADULTS! is a high-octane, nonstop comedic romp full of action, excitement, mystery, and friendship. And mayhem. Lots of mayhem.
---
Everyone's favorite Mistress of the Macabre, Elvira is spinning her wheels hostessing horror film festivals at the local drive-in when she discovers the opportunity to get in good with George Rottmero, producer of the greatest, grittiest, most realistic horror movies ever. The Dark Damsel uses all of her charms to impress the mysterious movie mogul and she is immediately cast in his latest scream-inducing spectacles, his masterpieces of murder and mayhem featuring the most realistic zombies anyone ever saw this side of an open casket! When she discovers the grave secret behind Rottmero's success, her dreams of super stardom might become deader than her undead co-stars! Will all of her efforts just be one big bust... because Elvira knows all about big busts!
---