Robert W. Gibson comic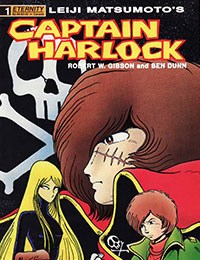 At the Illumidas Hall Of Justice, Triter, holds a trial for Tochiro, (another member of Harlocks crew) on charges of treason as a ruse to get the Captain to show up. Captain Harlock does appear, however not in his ship the Arcadia, but in the Danata. The Captain spreads the message of freedom and drops food crates to the people of Earth, along with rescuing Tochiro. Watching all of this unfold, Supreme Commander Muda swears Harlock will not leave the earth alive.
---
Published in Decenmber 1996 as a single issue.
---