Robert L. Washington III comic
Frieda heads to Akkad's place where the five alarm crew is waiting to take her somewhere. Static intervenes and defeats them. Frieda heads home. Static then changes into his civilian clothes and rushes back home to talk to Frieda on the phone. The next day Virgil asks Larry about asking Frieda out and he responds saying that he thinks Frieda believes they're just friends. While in class the five alarm crew arrive and take Frieda to Hot-Streak. Static eventually arrives and fights Hot-Streak, but when he sees his face he stops fighting and is beaten by him. Hot-Streak leaves and Static tells Frieda he couldn't fight him and takes off his mask revealing to her that he is Virgil.
---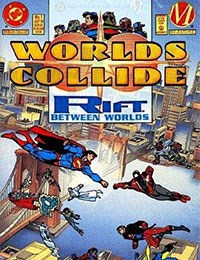 The world of Milestone crashes with DC Comics. The worlds are colliding and everyone is confused. To everyone in the Milestone universe superheros like Superman are just comic book characters. Now they are faced with the real thing. Some DC Characters are trapped in the Milestone Universe and vise-verse. Rift is the key as he is in more than just the one universe all by himself.
---
Shadow Cabinet led by Dharma had to go against Star Chamber in order to prevent them from using Quantum Juice to enslave the world. Dharma assembled heroes from Dakota to face off against Shadow Cabinet. Dr. Nathan Flack was revealed at the creator of Quantum Juice and it was revealed that the big bang occurred purposely thanks to Dr. Flack and Dharma.
---