Robbie Busch comic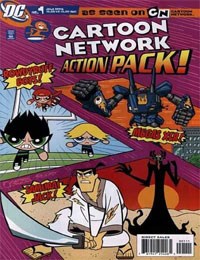 Don't miss this first issue featuring all-new stories based on Cartoon Network's most action-packed original shows! Featuring MEGAS XLR, BEN 10, SAMURAI JACK and more.
---
Mrs. Claus writes the Claus family letter about her mischievous daughter, Jingle. Although the stories are interesting, they are embarrassing to the family. Finding it difficult to write about the time Jingle got arrested or started a band, Mrs. Claus resorts to eating Bourbon balls to continue writing.Short story - Santa: Rusty: Jingwritten by Robbie B. and Stephen D.Santa is waiting for Jingle to get ready for the night's sleigh ride while Rusty is being ignored by everyone on his birthday. Rusty finds an unexpected way to draw attention.
---
An all-new anthology packed with adventures and puzzles, starring your favorite Cartoon Network characters from Codename: Kids Next Door, Dexter's Laboratory, Ed, Edd, & Eddy, The Grim Adventures of Billy & Mandy, Johnny Bravo, and Courage the Cowardly Dog.
---