Rich Koslowski comic
Classic heroes! Top talent! All-new stories! Jump on board the landmark first issue of MARVEL COMICS PRESENTS! 4—count 'em 4—brand new stories with a landmark wrap-around cover by J. Scott Campbell! Inside, you'll find these incredible mysteries: Who is DAMIEN CROSS? Why will his murder shake the very foundations of the Marvel Universe? Why is SPIDER-MAN needed in outer space? Patsy Walker is HELLCAT. But then who's the other HELLCAT? What is the SYSTEM? And what does it mean for the future of super heroes? Extra-sized first issue!
---
Don't miss the exciting relaunch of Zombies Vs. Cheerleaders! Always thrilling, pretty freaking funny, and never disappointing. Check out what all the commotion is about - macabre humor featuring, it can never be overstated, two things everyone loves: Zombies and Cheerleaders! Featuring a hot wraparound cover by Mike DeBalfo, the first issue contains an 8-page bonus story!
---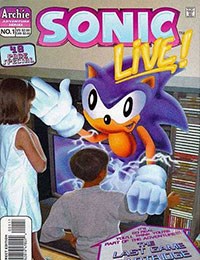 Also: Can the other residents of Knothole come to the rescue? Has Knuckles bitten off more than he can chew in his quest for the Royal Sword?
---