R.F.I. Porto comic
A marauding gang of time criminals escape from their prison to wreak havoc on a peaceful future. To stop them, Spatz must join forces with his insane older self, a skull-faced criminal, and Eve, another young time traveler who has learned to survive on her own.
---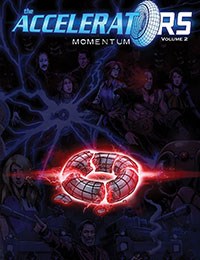 A group of accidental time travelers find themselves stranded in the future with a time machine that can only go forward. Their only hope is to keep moving, jumping further and further in search of a future that can show them a way back home. As the world crumbles around them in fast-forward, our heroes fight to survive a series of dangerous and surreal futures, each one wilder than the next. This second volume of the acclaimed ongoing story combines Issues 1-4 of THE ACCELERATORS: MOMENTUM.
---
Welcome to THE ACCELERATORS, a high-speed time travel adventure! THE ACCELERATORS tells the story of a group of reluctant time travelers who find themselves stranded in a future where time machines are commonplace and time travel itself has become a deadly game.
---