Phil Amara comic
Grab your sword and follow us as we venture deep into the world of Diablo in Tales of Sanctuary. Collecting three stories of horror, adventure, and action featuring characters and creatures from the hit video gameDiablo! Follow the Barbarian Renit and Necromancer Cairo as they search the fabled "Hand of Naz" in order to overcome a demon horde. Meet a Paladin named Hale as he fights an evil that will cause him to question the very nature of his existence. Witness the Druid Azgar as he fights to defend his village and the demons that lie deep within him! Illustrated by master comics artist Francisco Ruiz Battlegods Velasco, Diablo II: Tales of Sanctuary will slake your thirst for adventure and leave you crying for more!
---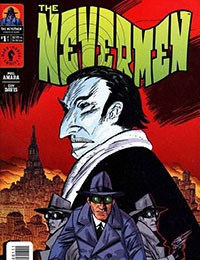 Months after the deranged scientist known as Clockwork attempted to reduce to ashes insane vengeance for the senseless death of this son the people that call the city home set about the task of rebuilding. The squad of protectors, The Nevermen, have lost two of their own, Diggs and McKay, in battle. Reduced now to a trio, the trenchcoated toughs must face a new evil simmering beneath the city. What hell will this reawakened villain unleash? Which crime bosses will compose his army? Can The Nevermen be victorious without the help of the anti-hero/bounty hunter, the Murderist?
---
The greatest heroes who never existed in the mission they never expected: One of the Nevermen is missing, taking with him the only clues to a plot that has the criminal underworld in turmoil. With maniac monkey butlers, disembodied heads, and the mysterious villain known as Clockwork arrayed against them, the remaining Nevermen find themselves seeking the help of one of their former companions now turned free-lance avenger --The Murderist!
---