Noah Van Sciver comic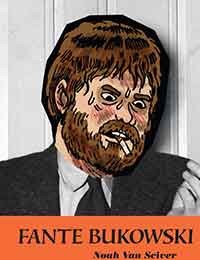 Noah Van Sciver's latest graphic novel drops in on the life of the self-styled, aspiring young writer, Fante Bukowski, as he delusively makes his way to literary fame and fortune, one drink at a time. Living in a cheap hotel, consorting with the debased and downtrodden, searching for that golden idea that will rocket him to the success he yearns for as the great American novelist, and to get respect from his father once and for all. But, there's just one problem: Fante Bukowski has no talent for writing.
---
Dense crosshatching and an attention to detail help bring together this completely original telling of a man driven by an irrepressible desire to pull himself up by his bootstraps, overcome all obstacles, and become the person he strives to be. All the while unknowingly laying the foundation of character he would use as one of America's greatest presidents.
---
Collects a dozen comic short stories by the acclaimed cartoonist behind Fante Bukowski and The Hypo. Noah Van Sciver is a keen observer of the human condition, exploring the decisions people make that make, break, and define them. Disquiet showcases the best of his short comics work, including: "The Death Of Elijah Lovejoy," the story of the midwestern abolitionist in the 1830s;"The Lizard Who Laughed," a painfully dysfunctional reunion; and "Punks V. Lizards," an anarchic and darkly comic piece of absurdity that blends Quadrophenia with Jurassic Park.
---