Natalia Devova comic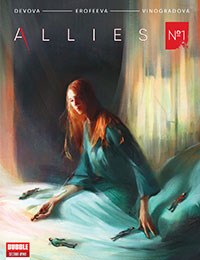 Nika Chaikina was the best in her field: a master thief that became a secret agent, she has completed many successful missions around the world and saved the planet from the forces of evil multiple times. But in the end the evil won. Nika had lost everything she fought for... She will never get her old life back but she must move forward. Now she has to gain back her strength, overcome the pain, defeat her inner demons - and begin the new war. Because the evil keeps growing: a powerful corporation wants to control all the people with superpowers and establish the new world order. After surviving a personal tragedy Nika can help people that gained superpowers to cope with changes in their lives - and avenge herself. But first she needs to put together a team. She is going to need allies...
---
...And the door will open"Exlibrium" (from the Latin 'ex libris', "of the books" and 'equilibrium', "balance") - a magic seal that helps the mysterious order of sorcerers to guard the border between the real world and the world of fiction. For many centuries members of the order have been successfully preventing creatures from the works of art and lliterature from escaping into our world. But sometimes the order fails to do so and some of those characters manage to break the walls between realities...
---