Mike Gold comic
Hardcover and trade paperback collecting various Joker stories.
---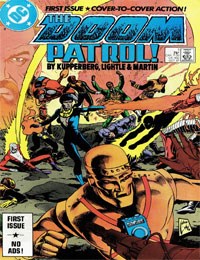 When Celsius finds the wheelchair of her late husband Niles Caulder, she begins a journey to find the supposedly dead members of Doom Patrol and recruits Robotman and Tempest to aid her in her quest.
---
Originally a spin-off from the Vigilante series, Checkmate featured the exploits of a super-secret government organization. The Checkmate operatives were known as knights, mortal men, super spies with high tech body suits and gear. First appearance was in Action Comics #598.
---