Michael Stewart comic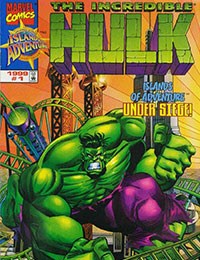 Bruce Banner, and three visitors to his lab are exposed to massive levels of gamma radiation. Before Banner can get them into a containment cell, General Rigsby is transformed into a gamma monster. The Hulk and the General have a battle, until the Hulk realizes that all of the visitors will be like him, and he has a moment of clarity and escapes into the desert.
---
---
The story is based on that of the Doom video game and revolves around a marine (without a helmet) searching for powerful weaponry in order to defeat a cyberdemon. The comic includes many well-known Doom monsters and weapons.
---