Meredith Gran comic
The hugely popular, award-winning game makes its comic debut! Our jump-inclined hero Doodler has landed in a mysterious wintry world and an inhospitable one, at that! With the help of an enthusiastic new friend, can he dodge killer penguins and weather the storm? Find out in this charming first issue, written by Meredith Gran (Adventure Time: Marceline and the Scream Queens) with fantastic art by Steve Uy (Avengers Initiative, JSA Classified). Doodle Jump, first released in 2009, is one of mobile gaming's most successful titles, and has earned continual praise for its excellence in innovation, performance and user experience. It's addictive yet accessible gameply has made it a must-have classic and the #3 All-Time Top Paid iPhone app. Described by some as 'Pac Man meets Ugly Dolls,' Doodle Jump is everywhere...from prime time sitcoms (BIG BANG THEORY) to Late Night TV (JIMMY FALLON) to a fashion accessory for pop stars (LADY GAGA).
---
WHY WE LOVE IT: Marceline and the Scream Queens was our first Adventure Time miniseries and we loved the tour Meredith Gran took us on. It's definitely time for more Marceline and what better way to get everything rolling than with an epic that takes Marceline and Princess Bubblegum to the far corners of the world and into space!
---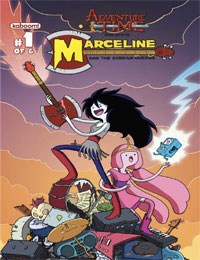 Join fan-favorite characters Marceline and Princess Bubblegum for riot grrl rock-fueled excitement in this brand-new Adventure Time mini-series! Thanks to a newfound interest in music, Princess Bubblegum joins Marceline's paranormal rock band for a tour across the land of Ooo! But when they're threatened by everything from scenesters to beasts born of self-doubt, can they make it to the raddest gig ever in time?! Written and drawn by acclaimed cartoonist Meredith Gran (Octopus Pie) and featuring a back-up story from Jen Wang (Koko Be Good), with variant covers by rockstar lady cartoonists Chynna Clugston (Blue Monday), Ming Doyle (Popgun), and Colleen Coover (X-Men: First Class)! Adventure Time #1 and #2 were instant sell outs! Don't miss out on the next installment of this all-ages phenomenon!
---