Matt Smith comic
The dastardly and the iniquitous will be taking over 2000 AD on the 1st May – the 32-page US-format 2000 AD Villains Takeover special sees the baddies from some of the 2000 AD's biggest strips, including Judge Dredd, Strontium Dog, and Sláine, get their moment in the spotlight!
---
"The Long Hard Road" begins here! In an all-new adventure from Joe Dredd's early days as a Mega City-One Judge, writer (and Eagle-award-winning 2000 AD Editor) Matt Smith presents a tale where "all the young juves, carry the news," only in this case, the news is delivered with a lethal blow!
---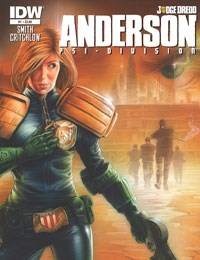 In an all-new adventure from Cassandra Anderson's early days in the Mega-City One Psi-Division, writer Matt Smith and artist Carl Critchlow present "King of the Six Sectors." It all starts with Anderson awaking from an unusually strong vision of an attack on the Megapolitan Museum showcasing Cursed Earth artifacts...
---