Mark Shainblum comic
The four issue adaptation of the first book in the second volume of Michael Moorcock's Corum cycle, TheBull and the Spear represents the final mini-series adapting Moorcock's work produced by First Comicsbefore the company folded.
---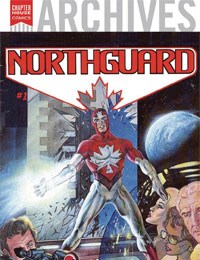 Chapterhouse Archives presents the reprints of Northguard, written by Mark Shainblum and illustrated by Gabriel Morrissette in never-before seen FULL COLOUR! Originally printed in 1984 to 1991 under its own label - New Triumph - Northguard became an immediate hit.
---