Mark Buckingham comic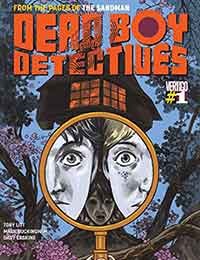 The dead boys head back to St. Hilarion's, where bullying headmasters continue to rule the school. But when they investigate the lingering mysteries of their own deaths, they meet a young girl named Crystal whose tech skills and strange link to the undead earn her a place as a new detective.
---
WHAT IT'S ABOUT: Following two award-nominated volumes, once again, mice of all furs and trades have gathered at the June Alley Inn to swap tales of courage, adventure, and craftsmanship. The storytellers can't help but try to outdo one another, as the mouse who tells the best tale gets their bar tab cleared. This issue features stories by Skottie Young, Mark Buckingham, and Hannah Christenson (Jim Henson's The Storyteller: The Novelization).
---