Kwanza Osajyefo comic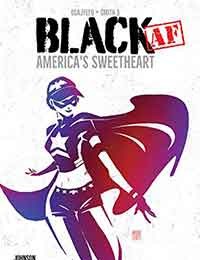 Can a black woman be America's first superhero? Eli Franklin is a 15-year-old girl living in rural Montana -- and she just happens to be the most powerful person on the planet. In the aftermath of the world learning that only black people have superpowers, Eli makes her debut as the superhero Good Girl, on a mission to help people and quell the fear of empowered blacks. When a super-terrorist threatens to take away everything Eli has worked toward, will donning a patriotic costume be enough for her to find acceptance? America's Sweetheart expands BLACK into a universe of heroes.
---
In a world where only black people have superpowers, what price do they fetch on the black market? From the pages of BLACK, this new story features Anansi and Hoodrat investigating a human trafficking ring that will take them across the globe and bring them face-to-face with dark pasts of abuse, child soldiers, and families torn apart.
---
IT'S HERE! The comic that blazed through Kickstarter during Black History Month 2016. In a world that already hates and fears them -- what if only Black people had superpowers. After miraculously surviving being gunned down by police, a young man learns that he is part of the biggest lie in history. Now he must decide whether it's safer to keep it a secret or if the truth will set him free.
---