Kalman Andrasofsky comic
The Chapterverse continues! Captain Canuck returns with a brand new first issue! Tom Evans has walked away from Equilibrium, his brother Michael, and the mantle of Captain Canuck, choosing to return instead to a simple life on the reservation near Flin Flon where he grew up. What a terrible time for an extraterrestrial incursion!
---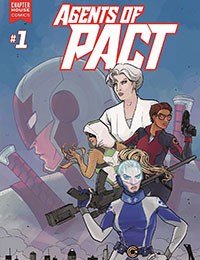 The Chapterverse launches with this brand new series! The X-Files meets Velvet meets Birds of Prey. In Canada. There's an extra-dimensional breach in the Canadian North. Enter P.A.C.T., the paranormal investigation arm of CSIS. With Captain Canuck AWOL, P.A.C.T director Manon DesChamps (formerly Fleur De Lys) must forge her own team of super-agents, pulled from Equilibrium, the Aurora Dawn, and other less savoury sources. She affectionately calls them her Fleurs de Conflit but to the world at large, they are: The Agents of P.A.C.T.!
---