Julius Schwartz comic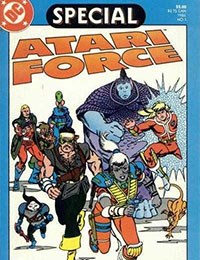 "All new action with science fiction's greatest team." Features solo stories of 2 of the team members and a team story. Each story has a different creative team.
---
Given the demand for paper during wartime, finding a 128 page comic of all new material on sale for 25c was a welcome discovery. The Big All American Comic Book was a stand alone issue edited by Sheldon Mayer and starred characters from the All American Publications lineup, including lead heroes Wonder Woman, Hawkman and the Flash, alongside lesser lights such as Scribbly, the Whip, the Ghost Patrol, and Little Boy Blue. It was published by William H. Wise and company, an outside publisher with access to paper stockpiles.
---
On a strange and far-off world...where he has gone in response to a mysterious message received via his battery of power...Green Lantern battles a creature of such fantastic strength that is can resist the power-ring attacks of the Emerald Warrior!
---