Juan Diaz Canales comic
Hard-boiled feline detective John Blacksad is back in the latest tour de force from the multiple-award-winning duo of writer Juan Díaz Canales and artist Juanjo Guarnido! Taking a much-needed break after the events of A Silent Hell, Blacksad lands a side job driving a rich Texan's prized yellow Cadillac Eldorado across 1950s America, hitting the back roads from New Orleans to Tulsa. But before long, the car is stolen and Blacksad finds himself mixed up in another murder, with roughneck bikers, a shifty lawyer, one down-and-out Beat generation writer, and some sinister circus folk! When John Blacksad goes on the road, trouble is dead ahead!
---
Detective John Blacksad returns, with a new case that takes him to a 1950s New Orleans filled with hot jazz and cold-blooded murder! Hired to discover the fate of a celebrated pianist, Blacksad finds his most dangerous mystery yet in the midst of drugs, voodoo, the rollicking atmosphere of Mardi Gras, and the dark underbelly that it hides! Features an extensive making-of section, with tons of prelim sketches and watercolor studies. 2011 Eisner and Harvey Award-winner!
---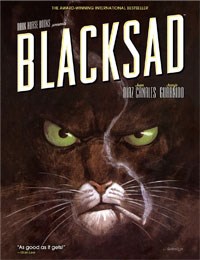 Private investigator John Blacksad is up to his feline ears in mystery, digging into the backstories behind murders, child abductions, and nuclear secrets. Guarnido's sumptuously painted pages and rich cinematic style bring the world of 1950s America to vibrant life, with Canales weaving in fascinating tales of conspiracy, racial tension, and the "red scare" Communist witch hunts of the time. Guarnido reinvents anthropomorphism in these pages, and industry colleagues no less than Will Eisner, Jim Steranko, and Tim Sale are fans! Whether John Blacksad is falling for dangerous women or getting beaten to within an inch of his life, his stories are, simply put, unforgettable.
---