Jonathan Ross comic
New York, 1929. The height of prohibition. The cops turn a blind eye while the mobs run the city, dealing in guns, girls and illegal liquor. But the arrival of the mysterious Dragonmir Family from Eastern Europe with more of a taste for blood then booze co-incides with a series of brutal attacks on the gangsters themselves. As the gangs fall before the fangs, only handful of mobsters survive. But an unlikely alliance formed between tough guy Eddie Falco and a character from a LONG way from New York City – a long way from Earth in fact - offers the humans a glimmer of hope. As the strong willed young reporter Susie Dale from the Gotham Herald tries to survive in the middle of the maelstrom, and an ancient prophecy unfolds, no one can guess who's going to win the battle for this particular slice of Turf.
---
Griffin Franks was a joke in Hollywood. A washed up action-hero. Over the hill. Past it. A has-been. A barely-was. But now he IS The Revenger. He's a star. His movie's a hit. His latest wife is hot. He finally has everything he wants. Just in time for someone to take it all away. Forever. Starting with his face.
---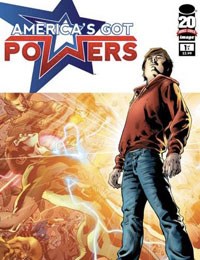 Welcome to AMERICA'S GOT POWERS! It's the biggest TV show on Earth, where the chance to win fame, fortune and get laid are dangled in front of a generation of super-powered teens. All they have to do is WIN. Who is the fastest, the strongest or the greatest? Who survives? Young Tommy Watt's dreams of being the greatest hero of them all might just be shattered when the greatest show on the planet begins to reveal it's dark heart.
---