John Lustig comic
Come join the fun on the only book that fails miserably at tip-toeing the fine line between loving tribute and mocking irreverence! Our barely-restrained troupe of writers are set loose on Marvel Romance comics of yesteryear, and they ain't takin' no prisoners... yet.
---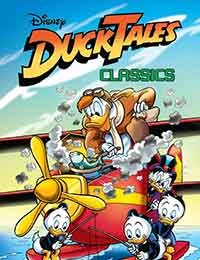 A whole new way to enjoy classic DuckTales! Legendary comic book talents are back with a Money Bin-full of classic 1980s and 1990s DuckTales comics! From dodging "The Billion-Bean Stampede" to lifting "The Curse of Flabbergé," from "Sky-High Hijinks" with the Beagle Boys to Magica De Spell's hunt for "The Bedevilled Dime," the adventures never stop for Scrooge McDuck, Launchpad McQuack, and the gang!
---
For starters, presented for the first time in the U.S. is the much-requested 1997 Carl Barks story - recently redrawn by Daan Jippes in the Barks style - titled 'Somewhere Beyond Nowhere.' If that doesn't whet your appetite, feast on the Carl Barks classic 'Mystery of the Loch', reprinted in English for the first time in 16 years! And if that's not enough, enjoy the Geoffrey Blum/Carlos Mota fan-favorite 'Saga of Captain Duckburg' - that may even feature Carl Barks himself! Featuring the never-before-seen cover for 'Mystery of the Loch' by the legendary Don Rosa and a special variant featuring an oil painting by the legendary Carl Barks entitled 'Slow Boat To Duckburg'!
---