Joe Tyler comic
Exploring the connection between sex and violence, the adaption of Little Red Riding hood confronts that line. The werewolf displays the lust and animal nature of sexuality while Red symbolises the innocence and purity of love. The hunter is the balance between them both, taking you back close to the original story of the brothers Grimm rather than the doused down version we know today, the true moral behind the story is displayed.
---
Years ago, unbeknownst to the public, the U.S. government built a walled city on an abandoned island in the Pacific Ocean. The purpose of this city was to house an experimental testing facility for a multitude of monsters that had been captured over the years. But in 2012 disaster struck and the island was evacuated and is now overrun by a multitude of different terrifying creatures and beings. But something extremely valuable was left behind and some very rich people want it. And the only way to get what they want is by sending a mercenary unit into the most dangerous place in the world: Monster Island.
---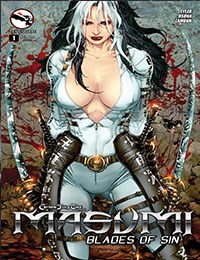 Masumi has been known as the silent assassin for her lethal prowess with her samurai swords, each are possessed by the demons known as the Eight Deadly Sins. With everyone she loves dead or gone, Masumi travels to her home country of Japan in search of purpose... but there she will uncover a very dangerous underground sect of Yakuza, Japanese mafia, that is drawing its power from an ancient evil.
---