Jessica Ruffner-Booth comic
Anita Blake is back in the second volume of Marvel's comic adaptation of Laurell K. Hamilton's bestselling series of novels! What would you do for a million dollars? Would you resurrect a two and one half century old corpse? Harold Gaynor poses just that question to Animator and part-time vampire hunter, Anita Blake... Plus, some crime scenes are even too horrible for a vampire slayer… and the worse they are, the more questions they raise.
---
Current queen of the book charts and soon to be the star of her own television film, best-selling author Laurell K. Hamilton's vampire hunter continues to take comics by storm! As THE LAUGHING CORPSE enters its haunting final act, Anita Blake thinks she has the deadly voodoo priestess who's made her life hell dead to rights...but the necromancer is about to find out her nightmare's only just begun! Find out why everyone in America is talking about Anita!Oddly enough, the indicia states the first issue is "Anita Blake No. 11" when if it were following the theme of the previous issues it would be "Anita Blake, The Laughing Corpse - Executioner No. 1". It is currently unknown if this will change with the later issues and the first issue was simply an error or if the covers are wrong.
---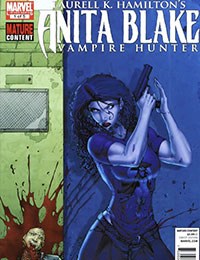 BEST-SELLING AUTHOR LAURELL K. HAMILTON'S HEROINE IS BACK! Morgues, by a rule, are pretty quiet places. But in a world of vamps and the rising dead, they can be positively hopping. Join animator Anita Blake as her search for a serial killer takes her to the most dangerous after-hours joint in St. Louis!
---