Jeffrey Brown comic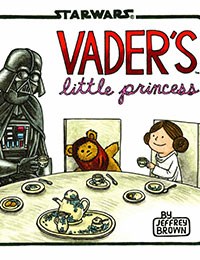 In this irresistibly funny follow-up to the breakout bestseller Darth Vader and Son, Vader - Sith Lord and leader of the Galactic Empire - now faces the trials, joys, and mood swings of raising his rebellious teenage daughter, Princess Leia. Smart and sweetly funny illustrations by artist Jeffrey Brown give classic Star Wars moments a twist by bringing these two galactic adversaries together under one roof. From teaching Leia how to fly a TIE fighter, to regulating the time she spends talking with friends via R2-D2's hologram, to making sure Leia doesn't leave the house wearing only a metal bra and slinky skirt, Vader's parenting skills are put hilariously to the test.
---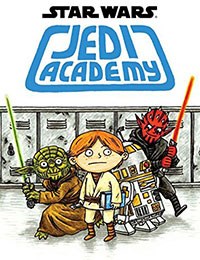 New York Times-bestselling author/illustrator Jeffrey Brown takes readers to a middle school in a galaxy far, far away. Roan's one dream is to leave home and attend Pilot Academy like his older brother, father, and grandfather. But just as Roan is mysteriously denied entrance to Pilot Academy, he is invited to attend Jedi Academy, a school that he didn't apply to and only recruits children when they are just a few years old. That is, until now. This inventive novel follows Roan's first year at Jedi Academy where, under the tutelage of Master Yoda, he learns that he possesses more strength and potential than he could have ever dreamed. Oh, and he learns other important things too - like how to make a baking soda volcano, fence with a lightsaber, slow dance with a girl, and lift boulders with the Force.
---
What if Darth Vader took an active role in raising his son? What if 'Luke, I am your father' was just a stern admonishment from an annoyed dad? In this hilarious and sweet comic reimagining, Darth Vader is a dad like any other - except with all the baggage of being the Dark Lord of the Sith. Celebrated artist Jeffrey Brown's delightful illustrations give classic Star Wars moments a fresh twist, presenting the trials and joys of parenting through the lens of a galaxy far, far away.
---