Jeff Katz comic
Beneath the bloody waters of Crystal Lake, an immortal evil wakes and begins anew the cycle of grueling violence. Six months after the events of FREDDY VS. JASON VS. ASH, a power-hungry government bureaucrat unleashes the denizens of the Necronomicon – including the banished spirit of the Springwood Slasher, Freddy Krueger. But Ash Williams has checked his monster-hunting past at the door. A Chosen One no more, he thinks that a life of domestic bliss and retail tending is his true calling – until the ghosts of the past show up to punch his clock again.The original creative team behind WildStorm and Dynamite Entertainment's FREDDY VS. JASON VS. ASH proudly presents the bloody sequel to the sold-out smash horror crossover event! Featuring a triptych cover by Arthur Suydam (Marvel Zombies) to match the triptych cover from the original miniseries. Co-published with Dynamite Entertainment.
---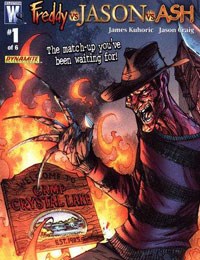 Don't miss the first two issues of a blood-soaked 6-part miniseries drawing together three of horror's greatest characters! In the bloody wake of the hit movie Freddy vs. Jason, Freddy Krueger finds himself clinging to the last shred of fear that allows him to exist…inside the demented mind of Jason Voorhees. Unwillingly bonded together, the murderous pair must seek out the Necronomicon, the only solution to their mutual torment. Nothing can stop this unholy alliance -- except the wisecracking, chainsaw-wielding Ash, aimed at destroying the Book of the Dead once and for all!
---
Following the universe altering conclusion of 52, Booster Gold wants what's due to him — a spot on the Justice League of America! But the time stream's in trouble, and Booster Gold is in the center of it! Now he must make a choice: reclaim his former glory or do the right thing, forgoing the credit.
---