Jeff Jensen comic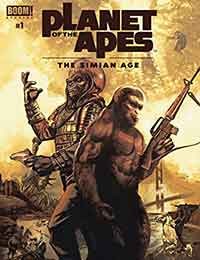 Celebrate over 50 years of one of cinema's most influential franchises with this one-shot collection of stories highlighting the simian citizens of the world of Planet of the Apes! Featuring stories from both the original films and new series canon, including the life of an Ape Soldier in General Ursus's army, and a story set before Dawn of the Planet of the Apes, revealing Koba's early struggles to remain loyal to Caesar.
---
You've seen mutants beaten, hanged and crucified. When will it end? You may have heard the name before, but nothing can prepare you for X-FACTOR!
---
Throughout the 1980s, the highest priority of Seattle-area police was the apprehension of the Green River Killer, the man responsible for the murders of dozens of women. In 1990, with the body count numbering at least forty-eight, the case was put in the hands of a single detective, Tom Jensen. After twenty years, when the killer was finally captured with the help of DNA technology, Jensen spent 180 days interviewing Gary Leon Ridgway in an effort to learn his most closely held secrets,an epic confrontation with evil that proved as disturbing and surreal as can be imagined.
---