Javier Grillo-Marxuach comic
The Middleman and Wendy return in a new adventure that completes the epic journey of their hit tv show! A betrayal by one of Wendy's closest friends sets off a chain of events that threatens the very fabric of human existence. Alone and surrounded by the forces of FATBOY and their leader, the dreaded Manservant Neville, Wendy and The Middleman stare down the barrel of a sacrifice so ultimate it will shake the Middleman universe to its very foundation! Based on the lost series script by creator Javier Grillo-Marxuach and co-executive producer Hans Beimler.
---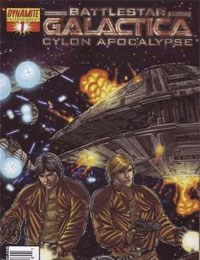 DYNAMITE ENTERTAINMENT presents an all-new, Battlestar Galactica event featuring the DYNAMITE Debut of Javier Grillo-Marxuach (ya know, the guy behind such hit shows as Lost and Medium) as he unleashes the Cylon Apocalypse! Dual revelations rock the rag-tag fleet as a routine Viper patrol puts them on the edge of a bizarre scene - Cylon Raiders attacking one of their own Basestars! As the Cylon Basestar crashes into an ocean-covered world, Adama and Starbuck discover a bizarre creature that appears to be a Cylon Centurion engulfed by diseased flesh. The Cylons are sick and the apocalypse has begun!
---
From one of the writers of the hit television series "LOST", comes a new vision of the venerable villain as Super-Skrull brings his devious cunning to bear on an unstoppable enemy! Super-Skrull bursts into the frontline of the war against the Annihilation Wave—taking the fight to the enemy (Negative Zone) in his own ruthless way.
---