Jarrett Williams comic
158 pages!IT'S TIME FOR THE MAIN EVENT! Be stupefied as King Crown Jr, Tomahawk Slamson, The Other, and the high-flying El Heroe face off under in the STEEL CAGE! But where's Joe Somiano?! Didn't he set the world on fire with his ferocious tenacity and heart?!?! Not really. He's backstage like a chump, trying to figure out how to win the SPKO fans over. WHAT A LOSER! But wait! Who is Romeo Colossus?! Does that ex-baseball superstar really think he can just waltz into Super Pro K.O. and be the ultimate wrestling champion?!? Not if Joe can help it! Find out who goes the distance in this second volume of the high-flying, kick dropping, pile driving, high-octane wrestling series, SUPER PRO K.O.!
---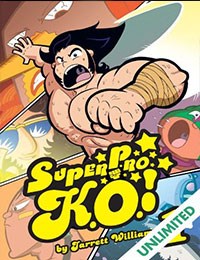 Joe Somiano is late to his first match in Super Pro K.O.!, and has no clue what awaits him in the rowdy ring! A seasoned sumo wrestler, a jolly luchador, a flambouyant tag team, suspicious executives, and a drunken Heavyweight Champion all stand between him and the superstardom that is his destiny. If the huge egos, clothesline take-downs, and broken chairs across the head don't squash Joe's dreams, he may just come out on top. But if he's going to take home the champion's belt, he'll need to bring his best moves against the likes of S.P.K.O.! stars Tomahawk Slamson, Yoko No-No, Mr. Awesomeness 2, and many more in this grand slamma jamma event of a graphic novel!
---