James Dale Robinson comic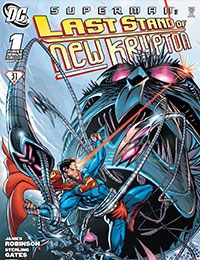 The new Superman crossover event "Brainiac and The Legion of Super-Heroes" begins here, in this first issue of a 3-part miniseries! It's New Krypton's worst nightmare as Brainiac attacks the planet, determined to recapture the city of Kandor! But General Zod has been waiting for this moment since Brainiac first attacked Old Krypton – he has a plan to save his people, but at the cost of Earth and the future as we know it! So it's up to Superman, Supergirl, Superboy and the Legion of Super-Heroes to stop the two madmen before they destroy everything!
---
Earth 2 was the home of eight heroes known as the Eight Wonders of the World. They were led by the Ternion of Superman, Batman, and Wonder Woman. These heroes became embroiled in a war with Apokolips when Boom Tubes brought Steppenwolf and his Parademons to attack and conquer. The Ternion was killed in altruistic attempts to bring down the Parademons' towers and protect the citizens of the planet. Two of the last remaining Wonders, Robin and Supergirl were taken from the world, when they entered a Boom Tube in pursuit of a figure they saw and found themselves on another world.
---