Howard Purcell comic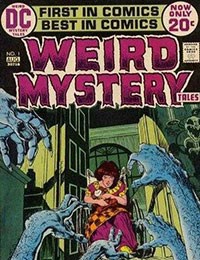 DC's latest horror anthology didn't enjoy as long a life as the company's other Weird themed titles. However, the host that was first presented ina framing sequence by author Marv Wolfman and artist Bernie Wrightson would provide endless creative material for Neil Gaiman's "The Sandman" series decades later. Cloaked in a dark robe and cowl, Destiny's stories came from a large book chained to him, containing events past, present and future. Despite his blindness, nothing escaped his notice - except, perhaps, the fact that the biblical Eve would replace him as the series' host after fourteen issues.
---
Early issues are published by World's Best Comics, National Comics, and National Periodical Publications. From #2 onwards the title of the magazine became World's Finest Comics and featured Batman and Superman every issue - although they did not have their first team up until issue # 71. As well as Superman and Batman, the early issues of World's Finest also featured many other heroes from the Golden Age, including, Sandman, Hop Harrigan, Dan the Dyna-mite, Crimson Avenger, Star Spangled Kid, Aquaman, Zatara, Tomahawk, Boy Commandos and Green Arrow. From issue #71 onwards, the lead story would always feature a team up between Superman & Batman and this remained the case through to issue #198, which saw the man of steel in a super speed race with the Flash to try and establish just who is the fastest man alive.
---