Harrison Wilcox comic
The title per the indicia is Ultimate Spider-Man but the title is sometimes listed on other sites as Marvel Universe Ultimate Spider-Man and Ultimate Spider-Man Adventures.
---
After the jaw-dropping conclusion of FALL OF THE HULKS, secrets, mysteries and surprises galore are revealed in this giant-sized, bone-crushing, gamma-irradiated special featuring key players of the biggest Hulk-saga ever told: A-BOMB, COSMIC HULK, RED SHE-HULK, DOC SAMSON and DEADPOOL! What is the heart-breaking decision that Rick Jones must make? Is there a hero left in the dark abyss of Leonard Samson's distorted mind? Whose appearance will shock the wild Red She-Hulk to her core? Can an ancient alien technology spell certain apocalypse to the world?
---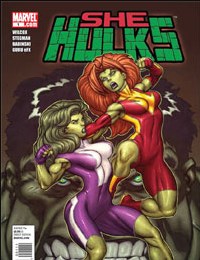 SPINNING OUT OF WORLD WAR HULKS! THE SENSATIONAL SHE-HULK RETURNS! Jen Walters teams up with LYRA, the all-new SAVAGE SHE-HULK, to bring the hurt down on the fugitive members of THE INTELLIGENCIA. Klaw, Mad Thinker, Red Ghost, Trapster, and Wizard tried to take over the world and now must pay for what they've done. Guest starring THE INCREDIBLE HULK in this all-new story of She-Hulk smackdown!
---