Gustavo Duarte comic
Newcomer Gustavo Duarte spins wordless tales brimming with humor, charm, and delightfully twisted horror! In Monsters!, oversized beasts wreak havoc on cities in the tradition of Godzilla and King Kong. In Có!, an alien abduction disarms a gentle farmer, and inBirds, two business partners run from fate only to find themselves hopelessly unable to change the future. In the tradition of Pixar! Giant beasts bent on destroying the world!
---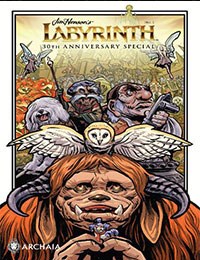 Celebrate the 30th Anniversary of the beloved Jim Henson fantasy film with stories from inside the magical walls of the labyrinth. Featuring fan-favorite characters like Ludo, Hoggle, Sir Didymus, and a few surprises, this special celebration collects for the first time all of the Labyrinth Free Comic Book Day stories along with new tales from Eisner Award winner Jonathan Case (The New Deal), Jeff Stokely (The Spire), Gustavo Duarte (Bizarro), and more!
---