Gary Phillips comic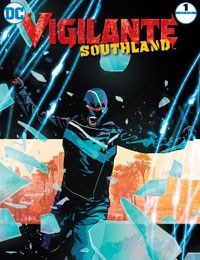 Donny was feeling pretty settled in his cushy life. Even though his girlfriend was politically active, he never gave social justice or racial issues any time. So, when Dorrie discovers something she shouldn't have and ends up dead, no one expects Donny to be the guy to carry on her work-but that's exactly what he does, putting on a mask and taking to the streets. He soon finds himself tangled in family history, political conspiracy, and a plot that goes far deeper than he ever imagined. Set in the heart of Los Angeles, this new VIGILANTE series raises an old question while making it relevant to our times: when you witness bad things being done, how far would you go to set them right? Written by Gary Phillips, noted writer of the Ivan Monk series of novels, and drawn by Elena Casagrande (Suicide Risk), this hard-hitting tale of revenge and redemption takes the Vigilante into a whole new danger zone.
---
Meet Nate Hollis — a Los Angeles-based private eye who's cool as a frozen cucumber and tougher than a box of nails. He's just landed the biggest — and possibly the last — case of his career.When a pro basketball star — L.A.s #1 baller — mysteriously disappears after his wife is found brutally murdered, it's up to Hollis to find him and either bring him to justice or prove his innocence. However, the smooth-talking P.I. soon learns he's not the only one looking for the infamous hoopster, and must navigate between a crooked District Attorney, a ruthless and resourceful gangster, and a deadly-but-beautiful bounty hunter.In between dishing out beat-downs and juggling two amorous career women, the ghosts of Hollis's past begin to surface. Will Hollis find the missing baller before his deadly competitors do? And will clues from this case reveal leads to his lifelong mission — to find his father's murderer?
---
Times Square, 1986: the home of New York's red light district where strip clubs, porno theatres and petty crime prevails. When a chance encounter for Peepbooth worker Roxy Bell leads to the brutal murder of a public access pornographer, the erotic performer and her punk rock ex-partner Nick Zero soon find themselves under fire from criminals, cops, and the city elite, as they begin to untangle a complex web of corruption leading right to city hall. Like The Naked City, there are eight million stories in The Deuce. This is one of them.
---