Frank Gibson comic
WHAT'S IT ABOUT: Over a hundred wonderful and terrifying creatures have suddenly appeared on Earth. Two teens set off on an adventure to investigate the origins of these curious creatures and learn how they can stop those who are trying to destroy them.
---
WHAT IT'S ABOUT: Gumball, Darwin, and all of their friends take on the world of comics! Gumball thinks he's the coolest kid on the block, but his little sister Anais begs to differ, and Darwin just wants to keep them all out of trouble. There's always another adventure to be had in their mixed-up world!
---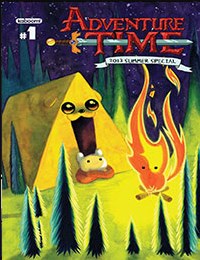 Put on that sunscreen and grab your beachtowel, because it's an ADVENTURE TIME summer special! Featuring allnew sunkissed stories from acclaimed creators, starring Finn, Jake and all of your favorites and showcasing a fullypainted cover by Becky Dreistadt!
---