Frank Frazetta comic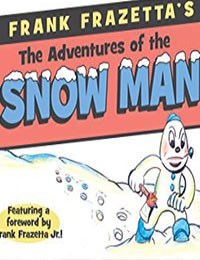 "Informed by WW2 propaganda, Frank Frazetta's earliest work is still as artistically nuanced and socially complex as it is innocent. Now, for the first time ever, witness the first complete story from a modern master with Frank Frazetta's The Adventures of the Snow Man! The Adventures of the Snowman first appeared in Tally Ho comics in December of 1944 when Frazetta was only 15 years old. This is the first time it has been repinted."
---
'SHADOWS OF MIRAHAN,' Part One FRANK FRAZETTA's legendary creation is brought to life in this epic, ages-spanning tale of dark fantasy, magic and horror. Critically acclaimed novelist and comics writer JOSHUA ORTEGA (THE NECROMANCER, STAR WARS) teams up with cult-favorite artists NAT JONES (SPAWN: THE DARK AGES, ROB ZOMBIE'S THE NAIL) and JAY FOTOS (SPAWN, '68) to bring you the first DEATH DEALER tale worthy of FRAZETTA's blessing-this one's been approved every step of the way by the Master himself! A new era for the DEATH DEALER begins here-don't miss out on the definitive story of FRAZETTA's most famous creation! You know the painting-now experience the legend!
---