Fausto Vitaliano comic
The Quack is back in this first BOOM! Kids issue! He's no double "o" seven, he's Double Duck! Donald shows us his dashing, adventurous side as a secret agent on a mission to stop a dangerous ice-melting machine and save the world from rising oceans! This is a Donald Duck like you've never seen! A brand new start at a brand new company for one of the world's most iconic characters and longest-lived, most-published comic book series!
---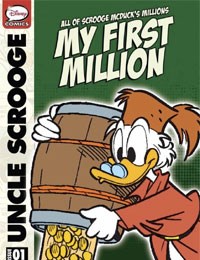 During a family dinner at the farm, Grandma Duck brings out an old photo album that documents how Scrooge McDuck became a millionaire! Everyone gathers around as Scrooge recounts the adventure that led him to earn his first million while mining for gold!
---