Dwight L MacPherson comic
Game designer American McGee's Grimm, available at GameTap, introduces the lovably macabre Grimm into famous fairy tales, transforming them into hellish nightmares. Now Grimm unleashes his dark magic on many comic book archetypes, twisting superhero tales, romance comics, westerns and more to his own purposes. Up first, Crisis On Earth 57, where Grimm launches a secret invasion crisis into a domain where villains are doomed to fail until he gets involved!
---
The first senses shattering issue of FTL will take you to a future Earth ravaged by a war between humans and robots, you'll see a young girl seduced and corrupted by the darkness of vampirism, you'll ride with a group of vampire hunters as they hunt the last true vampire, and you'll see terrifying beasts return from myth and legend to lay waste to mankind!
---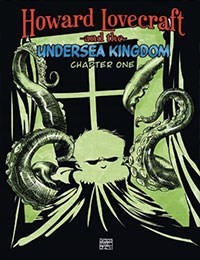 An all-ages H.P. Lovecraft story! Howard Lovecraft's family has been imprisoned on a far-flung alien planet, Spot hopelessly captured, and he is slowly becoming a mindless Fishman. Accompanied by his insane father, a pistol-packing constable, and his hungry cat, they must face the all-powerful ruler of the Outer Gods, a revengeful old enemy, an army of deadly monsters, and a lethal world called Yuggoth, to save the day. All Howard has to do is surrender his father's Book. But that would mean certain doom for all of mankind!
---