Dwight L MacPherson comic
The first senses shattering issue of FTL will take you to a future Earth ravaged by a war between humans and robots, you'll see a young girl seduced and corrupted by the darkness of vampirism, you'll ride with a group of vampire hunters as they hunt the last true vampire, and you'll see terrifying beasts return from myth and legend to lay waste to mankind!
---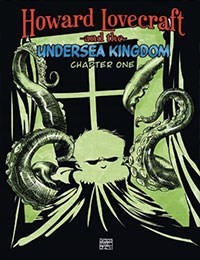 An all-ages H.P. Lovecraft story! Howard Lovecraft's family has been imprisoned on a far-flung alien planet, Spot hopelessly captured, and he is slowly becoming a mindless Fishman. Accompanied by his insane father, a pistol-packing constable, and his hungry cat, they must face the all-powerful ruler of the Outer Gods, a revengeful old enemy, an army of deadly monsters, and a lethal world called Yuggoth, to save the day. All Howard has to do is surrender his father's Book. But that would mean certain doom for all of mankind!
---