Doselle Young comic
Spinning out of events in THE AUTHORITY #21, Jackson King, Christine Trelane and their new group, the Monarchy, go after the Young Authoritans — a group of youths who are taking the lessons of The Authority to extreme levels by going into poor neighborhoods and killing people they don't like. The world has fallen ill again, and it's time for the Monarchy to perform the emergency surgery required!
---
Lost in the Delta Quadrant, Captain Janeway and the crew of the U.S.S. Voyager NCC-74656 have been seeking a way home for years. But their quest is interrupted by encounters with an astonishing variety of foes - and a few new friends. This collection contains four tales that exemplify all that''s best about the adventures of Voyager: "False Colors", "Avalon Rising", Elite Force", and "Planet Killer".
---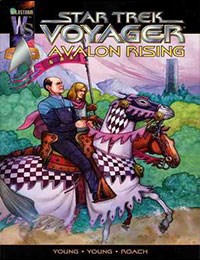 A stunning Prestige one-shot casts Captain Janeway and her crew as figures in a real-life fairy tale as the Doctor goes on an urgent mission alone on a strange planet's surface.
---