Dan Berman comic
An original graphic novel, written by Mike Oeming and Dan Berman, illustrated by Brian Quinn.
---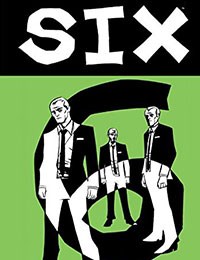 Sometimes science fiction is all in your head... and sometimes it's all in your face. Agent Six has been sent here to retrieve defectors from Command, but everything is not as it seems... because Six wasn't sent from another country, he was sent from another plane of existence. And not only have the defectors gone rogue, they've gone crazy. They've turned their backs on their sterile, logical world to live in the grim and gritty emotional world of earth--but can they handle it? What happens when an alien mind is exposed to the logic and emotion of "humanity" through dreams? Agent Six is about to find out as he takes a trip through the human psyche in an effort to recover rogue agents sent to Earth to study us. As Six's mission continues and he struggles with his newfound freedom, the greater his chances are to become infected... by humanity. Extras include a sketchbook section by OEMING and pin-ups by MATT WAGNER, DAVID MACK, ANDY LEE, KLAUS JANSON and others!
---
Stormbreaker: The Saga of Beta Ray Bill is a mild crossover into Marvel's Avengers: Disassembled storyline, in which it somewhat continues Thor: Disassembled that saw the total destruction of Asgard and even Thor's "death". Written by Michael Avon Oeming with artwork by Andrea DiVito, this tale delivers Beta Ray Bill's point of view to the point where he actually sees how Ragnarok has effected Asgard. This TPB collects Stormbreaker isses 1 - 6.
---