Christopher Lawrence comic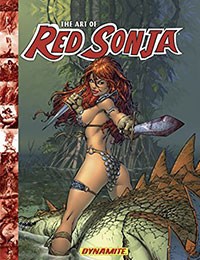 From the edge of her sword to the murky swamp below, this magnificent work of art captures every dramatic detail of the She-Devil with a Sword. This is a must have for both the fine art collector and the lover of sword and sorcery fantasy. Over 35 years in the making! Featuring a look at every aspect of the she-devil with a sword - Red Sonja! From the Dynamite revival and back to the classic era of Roy Thomas and Marvel Comics, the Art of Red Sonja has it all! Bursting with incredible art by a veritable who's who of talent: ALEX ROSS, Jim Lee, Frank Cho, Frank Brunner, Adam Hughes, Pablo Marcos, John Cassaday, Art Adams, Mel Rubi, Howard Chaykin and more!
---
Over 200 full-color pages highlight the magnificent career of artistic legend George Perez! From his early days at Marvel on such titles as Fantastic Four and The Avengers to DC Comics' landmark titles, New Teen Titans and Crisis on Infinite Earths, plus independent work for T.H.U.N.D.E.R. Agents and so many others, along with his own creations Sachs and ...
---
The history of painters in comics goes back to the dawn of pulp magazine covers. From "The Shadow" and "The Spider" to "The Black Bat" and so many other characters, painter's works have graced the covers of comics and pulps, which have influenced many artists over the decades. This deluxe coffeetable art book, edited and overseen by Alex Ross — one of the comic industry's most recognized painters, whose expertise has helped guide and define its contents — is the most important, most comprehensive prestige hardcover retrospective of the history of painters in comics, of all time.
---