CD Projekt Red comic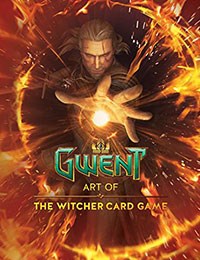 Whether played on the exotic felt tabletop in a palatial casino, or on the rough-hewn bar in a tavern's smoky din, the game of Gwent is never a dull one! With cards that feature fantastic art that only adds to the strategic thrill of crushing one's opponent, Gwent: The Witcher Card Game offers a singular gaming experience. Now, Dark Horse is proud to present each cards' gorgeous artwork in a stunning hardbound volume. Celebrate wondrous artistry and cutthroat gameplay with The Gwent Gallery: Art of the Witcher Card Game!
---
Dive deep into the world of monster hunters, as the prominent characters from the universe take you on a guided tour of the fascinating dark fantasy adventure that is The Witcher. This gorgeous, illustrated hardbound volume contains in-depth knowledge about the locales, the deadly beasts that inhabit them, and the lethal weapons used to put them down.
---