Carlos Giffoni comic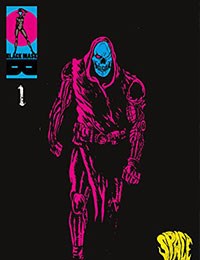 It's been twenty years since the riders defeated the DESTROYER GOD OF EVIL and saved the galaxy. But when THE MOTHER OF ALL EVIL GODS appears and threatens to take control of every dimension and every strain of possible reality, the now cybernetically-enhanced ex-riders will come together and travel into her mind to ASSASSINATE HER SOUL! It's a suicidal mission into an infinite vortex of blood and death!
---
Most cats have nine lives, but the fates of billions rest on this feline. In the far future, a military-industrial complex reigns over all humanity and actively destroys distant alien worlds. The galaxy's only hope can be found through an unlikely pair: an astral-projecting cat named Lou and his loving owner Kiara. Trading nine lives for the well-being of billions, their revolt is a battle for love, friendship, compassion, and the soul of humanity.
---