Benito Cereno comic
When a crazed tour guide raises the spectral remains of the galleon that brought the Necronomicon to America, Ash finally meets the one thing he hates more than Deadites - ghost pirates! It's chainsaws and boomsticks against cutlasses and muskets, and if Blackbeard's men can't have their treasure, the Promised One's head will have to do!
---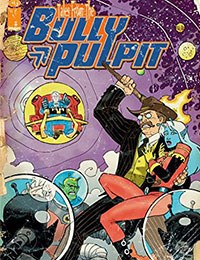 THE CONCEPT: Most American presidents are given, at most, a period of eight years in which to protect a single country. But unknown to the public at large, one rough-riding president took it upon himself to protect the whole known universe-for the entire expanse of time. What do a man who was formerly president and an inventor who was formerly alive get up to when they obtain a stolen time machine? Science, that's what. THIS ISSUE: Teddy Roosevelt and the ghost of Thomas Edison travel to the far-flung future on a wager, only to discover the terrible secret of space! It's a rough and tumble tale of science with both fists as our two heroes race through time to liberate the Red Planet from its foreign invaders.
---
THE BIGGEST STARS IN COMIC BOOK HORROR MEET THE BIGGEST STAR IN INDEPENDENT HORROR FILMS AS CASSIE AND VLAD MEET HATCHET'S VICTOR CROWLEY! In the Louisiana Bayou, the murderous ghost of Victor Crowley is maiming tourists in creatively horrible ways. But in his blind murderous rampage, he may have created something worse than himself! Now, Cassie and Vlad are back in New Orleans, and it won't be long before baseball bat meets hatchet and deformed mutant meets deformed mutant! GUARDING THE GLOBE writer BENITO CERENO teams with star-in-the-making ARIEL ZUCKER-BRULL for this momentous mash-up!
---