Antony J.L. Bedard comic
The history behind how Charon became the ruler of the Negation universe.On a remote world of the Negation Imperium, the freakish and frightening Lawbringer Qztr learns the secrets of his own origin and that of his creator, the God-Emperor Charon. See the moment when the Negation Empire was born and be there for the fate of Charon's long lost second-in-command. Don't miss this stand-alone saga exposing the hidden past of CrossGen's most dangerous villains. This is destined to become a pivotal chapter in the greater epic running through all of the CrossGen books!
---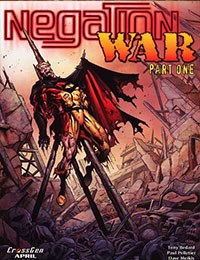 What will the unpredictable minds behind NEGATION unleash as universes collide? It's been built-up for nearly four years. Now, the world-crushing machine of the dark Negation Universe finally launches an all-out invasion of our own! Can anything challenge their horrific power and prevent utter annihilation? NEGATION has racked up critical praise month after month...now it's your chance to find out why...and to see CrossGen's first superhero!
---